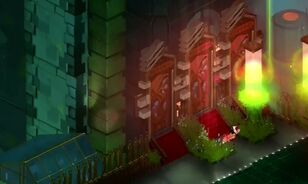 "Central admin sure keeps it tidy."
--
Unknown
Central Administration is the administrative body which oversees the welfare and development of Cloudbank.
With offices located in Bracket Towers, Central Administration handles civil matters in Cloudbank, carefully facilitating as much as possible while intervening as little as possible. Its primary role is the administration and enforcement of the OVC polling system. A secondary role, shared with law enforcement, is public safety. Local admin branches work together with Central Administration to carry out both functions. Cloudbank's administrators are considered public servants, beholden to their constituencies.
Using the Polling Array in Bracket Towers, Central Administration administers and tallies polls on every aspect of Cloudbank, from weather to architecture. Polls are administered via OVC terminals. Civic engagement is encouraged by local admins.
Public Safety
Edit
Central Administration oversees enforcement of municipal rules and order, issuing directives and sentencing those who break them via bans or imprisonment. Sentencing can be appealed via petition. They also issue public safety warnings and emergency directives.
Central Administration quietly took the northwestern edge of Goldwalk O.P.I. (Offline Pending Investigation) until further notice. Officer Henter Jallaford 's decision to investigate without administrative clearance led to his disappearance there. Administration also barred searches for racer Preston Moyle in the offline district, despite his disappearance there.