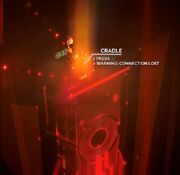 "Transistor plus Cradle equals no more Process." -- Royce Bracket
The Cradle is a construct associated with the operation of the Transistor.
Located on Fairview Island in an area mapped as the Bracket Residence, the Cradle normally interacts with the Transistor in such a way as to control the behavior of the Process. Loss of connection between the Transistor and the Cradle allows the Process to run unguided until the connection is renewed.
The logo of the Camerata resembles the Transistor interlocked with the Cradle.